On July 22nd 2005, Yuku launched its first message board. Just imagine our excitement while we're approaching this 10 year milestone.
We'd like to start the party early, and make sure that everyone gets a piece of the birthday cake.
To all communities, we offer a 10% discount on any purchase of gold or ad-free pageviews. The offer is valid until January 31st.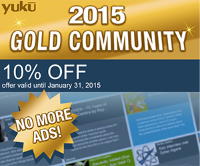 Gold for communities can be purchased by clicking the "Contribute Now" link, near the top left of each community.
We also thought of people who would like to renew their supporter account, or purchase a supporter account for the first time. All of you will enjoy 10% off as well. Offer is valid until January 31st.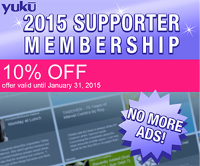 What Are The Benefits Of Yuku Supporter?
[/left]
Ad-free browsing when visiting your favourite Yuku communities. 
Two extra profiles for a total of three profiles (great for role-players). 
Five extra signatures for a total of ten signatures. 
You can switch between them easily as you post within the communities. 
100 MB of image hosting space. Non-Supporters receive only 30 MB.
View as few as 10 or as many as 100 topics and replies per page with your supporter account. 
Sort replies in threads, last post first or first post last. 
Where allowed by admins, you can view the message boards in an "anonymous" mode that will hide your online status entirely.
An extra HTML post editor.
Grab your discount today and enjoy our first anniversary event. Stay tuned for more!
Supporter accounts can be purchased in your account settings. For further instructions, please read the tutorial
here
Your friends at Yuku.