How to place an announcement at your community
All admin actions require that you are signed in with an account that has admin access to the community you wish to manage.
The admin dashboard of your community can be accessed by clicking the "admin" link in the community's navigation bar.
Old UI:

New UI:

Click the Info link in your admin sidebar: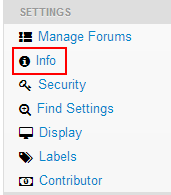 Add your announcement and determine whether you wish to show it on your main page only, or on your forum pages as well. You can use HTML in the announcement box to make your announcement stand out better.
Click Submit to save the changes.