Yahoo -> Yuku setup guide
Thank you for choosing Yuku. Setting up your Yuku forum is just a few clicks away. We'd like to guide you through this process to make the transition as comfortable as possible.
Getting started.
After registering your Yuku account, you can create a forum via this link:
http://www.yuku.com/portal/createcommunity
First, you'll want to adjust your access settings and general information.
To access your control panel, click the Admin link in your navigation bar (Management -> Control Panel at Yahoo)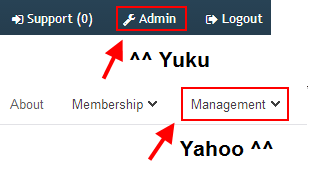 Title, group description
Title and group description can be found on the info page. Your Yuku admin sidebar has various links, including an info link. This link leads to a page that matches the "About Group" page you are familiar with.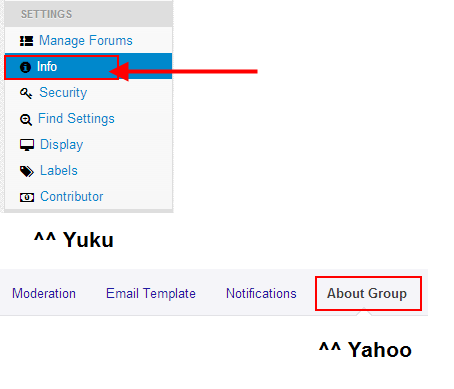 Note that on the Yuku Info page, you will see an announcement box. The announcement box can be used to place an announcement across the top of your forum.
Categories
To choose search Categories, click the Find Settings link in your admin sidebar.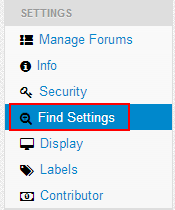 Group Settings
You will find the group settings by clicking the Security link in your admin sidebar:
On the security (group settings) page you determine who can view and access your group.
Bonus:
You will see multiple options there, including two spam prevention features.
1) Set posting restrictions for new members.
2) Enable/disable post flood control.
Additional options on the security page:
1) Allow/disallow anonymous viewing.
2) Add a custom message if your forum is private.
3) Show user IPs to admins or moderators
4) Block usernames.
5) Turn profanity filter on or off.
6) Add additional words to the profanity filter.
Access Control
This one is a little tricky. Your Yuku group is divided into several sections. Each of these sections have their own access control. While it takes a little getting used to at first, the rewards are great with endless possibilities that allow you to set up each forum to your liking.
To find your forum settings, click Forum management in your admin sidebar.
Use the icons on the right hand side to add forums, delete forums, edit forum titles and descriptions or adjust access settings.
If you use internet explorer, please make sure that compatible view is turned off.
Categories and forums are new to you. A category is a folder that holds the forums. The forums are the folders that hold your posts (messages).
Here is a tutorial on how to add or delete categories and forums:
http://help.yuku.com/support/solutions/ ... and-forums
Tutorial on how to adjust forum settings:
http://help.yuku.com/support/solutions/ ... -to-forums
If you want to make it look more like your Yahoo group, you can delete one of the default categories and go with just one forum.
Bonus:
1) You can add a chat room to your group.
2) Access can be adjusted for each forum, e.g. you can have one or more private forums within a public group. 
3) All forum settings can be overridden for individual members.
Moderation
Moderation is done for each forum individually.
Go to Forum Management -> Poster permissions and check the "Enable Post Screening" box.
The changes auto-save.
Email Templates
Templates can be found by clicking Admin Messages in the admin sidebar.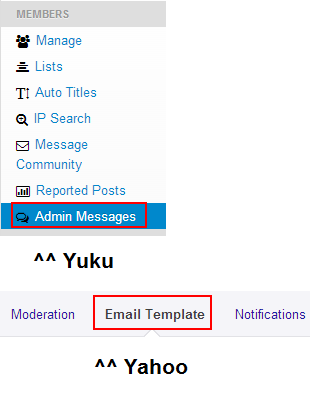 Please note that admin messages are sent within the network via private message. Members can, however, opt to receive email notifications of these private messages.
Pending Approvals
If your group is private, or sections within your group are private, you will get pending memberships. These can be approved via the member management section.
Click pending in the black navigation section to see your pending members.

Manage members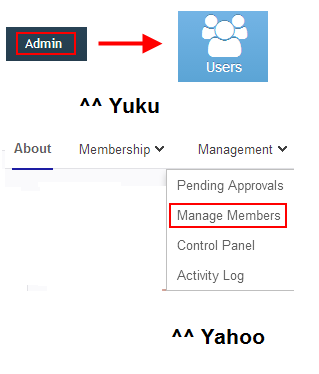 To access your member list, click Admin in the navigation bar, then click the blue Users button.
Please note that you need to adjust your Find settings first before you can see the Users button on the dashboard.
Removing or banning members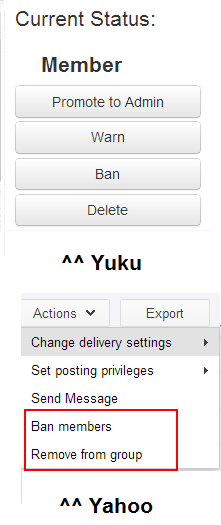 On your member list, click the name of the member you wish to remove or ban.
Look for the delete and/or ban option in the custom settings section.
You can also use the quick edit options to the right of each username: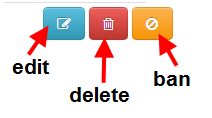 Bonus:
1) You can ban members for a specific amount of time (e.g. a day,. a week, a month, etc..)
2) You can ban members by IP
3) You can warn members and make it so that x amount of warnings in x amount of time auto-bans the member for a period of time, determined by you.
Moderators
The moderators as you know them, are called administrators on Yuku.
You can promote a member to admin by clicking the promote to admin button on the member's management page.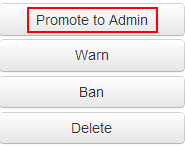 Bouns
: 
You decide exactly how much access your administrator(s) will have. Admin settings can be fine tuned in different ways: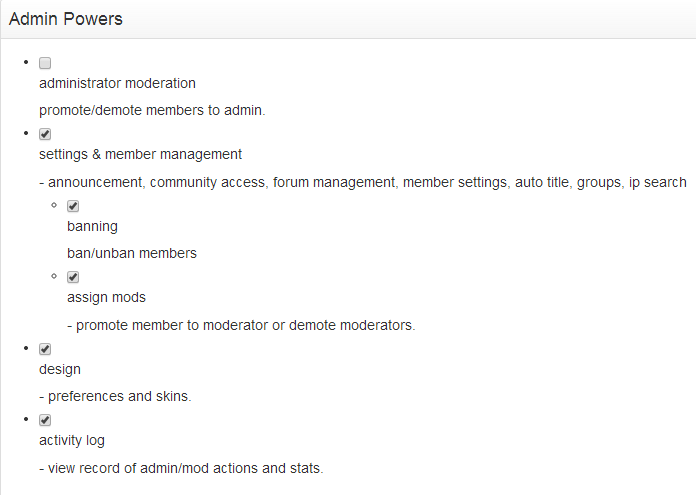 You can also add moderators to the group. Moderators are members who receive elevated powers to help you moderate the forum. (e.g. close topics, move, hide, delete, edit, feature, etc...)
Here is a tutorial that explains how to add moderators and how to fine-tune their powers.
http://help.yuku.com/support/solutions/ ... moderators
Photos, Events, Polls
.

Photos
Each member receives 30MB free photo storage space (100 MB for supporter accounts). Images can be uploaded to your storage space and then be posted in the group. Unlike at Yahoo groups, each member has his or her own personal storage.
Events
Each group comes with a ready-to-use calendar. Group owners can decide whether they allow members to add events to the calendar or not.
Polls
Yuku has a flexible poll system that is widely used across the network.
Here is a full tutorial on how to set up polls.
http://help.yuku.com/support/solutions/ ... 9309-polls
Topics, Messages, Trending, Spam

This is displayed slightly different on Yuku.
Groups can be divided into multiple sections (forums). Each forum will have its own topics.
Trending: Click the "Active topics" button over to the right on your main page.
Spam: We have multiple global spam guards in place as well as tools to remove spam globally should spammers slip through the mazes. Each group has also tools to keep spam under control.
Bonus:
1) Group owners as well as members can determine how topics will be displayed: 
http://help.yuku.com/support/solutions/ ... c-ordering
2) Members who have supporter accounts can change the order of replies within a topic. They can also determine exactly how many topics and replies they will see per page.
Receiving email notification of topics or replies
This does not work the way you are used to. Email notification can be received when members subscribe to topics, or to the group itself.
To receive email notification of new topics, click the email link at the bottom right of the group's main page.
To receive email notification of replies to specific topics, click the subscribe option at the top left, or check the notifications box below the editor while replying.
Frequently asked questions
Q: Do we have to pay for this?
A: Yuku is a free service, you don't have to pay anything. You can, however, contribute to a group to have ads removed, or purchase supporter (.99 cents for the first 3 months, then $12 a year). The supporter purchase is for individual profiles and offers a number of benefits.
http://www.yuku.com/home/supporterstory/
Q: Can a private group be made public?
A: Yes, you can change the privacy settings of your group at any time by going to your security page.
Q: Can we edit messages?
A: Sure, messages (posts) can be edited. As a group owner, you can decide whether you'll allow edits and/or deletions.
Q: I've read the set-up guide but I'm still struggling, where do I find help?
A: We'll be happy to help you via our public support forum 
http://yukusupport.yuku.com
 or via the help desk
http://help.yuku.com
Q: Can I upload a banner and change my theme?
A: Yes you can. Adding a banner and changing themes can be done by clicking Responsive Templates in your admin sidebar. Please visit 
http://yukudemo.yuku.com
 for additional themes. These themes can be imported to your group by our staff, just contact us via the help desk or the support forum.
Q: Can I add my own emoticons?
A: Yes you can. You can add up to 250 emoticons and apply different sets to different sections of your group.
Q: This is very different compared to Yahoo groups. Why should I use Yuku?
A: Yuku offers a multitude of features that make managing your group easier than ever before. Our flexible member management system enables you to give every individual member custom access to your forums.
Options and Features you might enjoy:
Full fledged chat rooms
Individual member management
Featured topics
Mobile app
Labels
Ad fine-tuning
Member contributions toward ad-free
User ignore
Flood control check
Customizable Profanity filter
Allow anonymous viewing
Bulk member management
Post editing, deleting, hiding, splitting, merging, closing, pinning
Post featuring
Apply different themes to different forums
Auto-access to forums based on certain criteria
Admin and moderator fine tune options
IP banning
Static and dynamic lists
Bad word filtering
Apply different emoticons to different forums
Detailed security logs
Full poster interact menu
Post editor choice
Full and interactive user profiles
Group announcements